Soot Blower Feed Water Monitor
Applications:
High-Pressure Water Supply Monitor
Steam Water Supply Monitor
Cleaning Media Detector
Application Background:
A Soot Blower is a device designed to remove soot in heat exchangers, SCR, air preheaters and gas-gas heaters with dual lances. Various types of soot blowers use steam, air or high pressure water at flue gas temperatures for cleaning these heaters. This maximizes thermal efficiency and gas exit temperatures extending the life of the system. There must be a water supply to create steam or pressurized water and the flow rate of this supply can be monitored with a thermal mass flow switch.
Application Solution:
A flow switch with dual channels has the capability of setting two discrete flow set points for establishing the flow control function without the expense of a flowmeter. Normally the first channel would be set for "no flow" or "minimum flow" and the second channel for maximum acceptable flow of the liquid or gas. Exact flow rates must be established by a separate flowmeter or approximated by other local means or process experience. Once the dual channel switch is calibrated a flowmeter is no longer needed and can be removed for other applications.
With a single process connection into the flow pipe (MNPT or flange) a Dual Channel Versa-Switch® from Delta M Corporation can provide the flow control function for the supply of a liquid in a steam application at less expense than a flowmeter.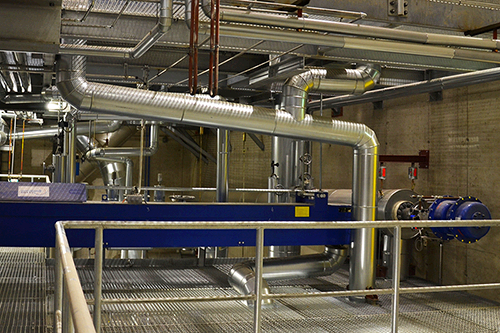 For more details see Section 4.4.3 of the VS5100 manual to see how dual set points can be established for your specific application.


Recommended Products:
VS5100
VERSA-SWITCH® – VS5100 Series
Premium Mass Flow Switch
Dry Line Indication - Chemical Injection Monitor
Safety Relief Valve Monitor - Soot Blower Feed Water Monitor
Rotating Equipment Lubrication - Vapor Recovery Monitor
Gas Booster Monitor - Exhaust/Air Purge Monitor
User Selectable Power – 110/220VAC/24VDC
Optional Remote Electronics for easy setup
Nearly any Process Connection - Custom or Common
2nd Channel for Detection of:
Dry Lines, Temperature or Unit Diagnostics
Two year workmanship warranty