Compressed Air
Applications:
COMPRESSED AIR METER
COMPRESSED AIR MONITOR
AIR FLOW METERS
COMPRESSED AIR USAGE MONITOR
Application Background:
Supplying and maintaining compressed air is an expensive necessity in many industrial applications. By monitoring compressed air flow one can track usage, unusual usages, and track down leakages. When there are even small leakages the expenses can mount up in excessive compressor run and cycle time and additional maintenance for the supplying system. Like the dripping faucet or running toilet tank, significant losses can be incurred.
Installing an in line flow pipe of the diameter of your compressed air line or an insertion type flow sensor is an easy way to begin the monitoring process. By tracking usage in time periods and also total usages one can begin to see opportunities to explore for problems, optimize compressor efficiency, and reduce energy costs.
Application Solution:
There are many techniques for monitoring air flow in compressed air applications. Historically, differential pressure orifice plates, vortex shedding, and turbine flow meters have been used. Problems inherent with these technologies such as wear on the plates, bearings, and blades and blockage in the sensing elements have sent engineers looking for a better approach. Today you will find the preferred technique to be a thermal based mass flow meter. A simple single pipe penetration insertion meter, with accuracy and repeatable air measurement over the broad range is seen to be the ideal solution for the compressed air monitoring needs.
Delta M offers air thermal mass flow meters to meet the needs in this compressed air application. This simple to install insertion sensor has no moving parts or orifices to clog for maintenance free operation. The meter can be mounted with local electronics, color display, and thru-the window control keypad or remotely to a control panel box or control room. The data displayed or available through Modbus RTU via RS485 show current flow rate, cumulative total flow, and temperature. For a Repeatable, Reliable, and Ready solution for your compressed air flow meter needs give Delta M a try. You will not be disappointed.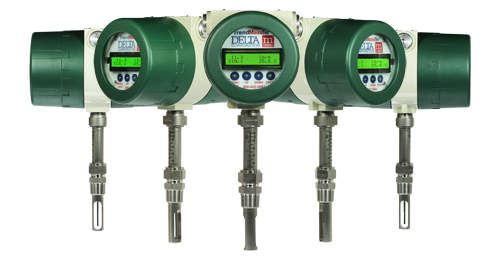 See the TrendMassTer 6000 manual
for more information on setting up this device to work for your specific application.
TM6000
TrendMassTer® – TM6000 Series
Thermal Mass Flow Meter
Compressed Air - HVAC Applications - Compressor Controller
Combustion Air Monitoring- Process Air - Pneumatics
Direct mass flow, no secondary measurements
Wide operating temperature range -58°F to +650°F (-50°C to +350°C)
Rugged matrix LCD display for the best outdoor visibility
Fast response time as low as .5 seconds depending on media.
4-20mA output w/ external loop power
On-board Isolated power supply
RS485, SPDT Relay output